Quick Navigation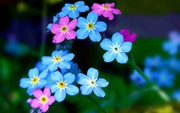 Rules andPlot
Introduction Model
Taken Characters & Their Faces
Canon List



Location Links:
Armonia's Sights
Armonia's Shops
City Outskirts
Sniegsmetsä Forest
Out Of Character
Vote For Us!


With a yelp, Fenix woke up and sat up in his bed. Checking his pocket watch, he frowned - midnight. With a sigh, he wiped the sweat from his forehead and took a deep long breath to try and calm himself down.

He'd been dreaming again, though the dreams could hardly be classified as dreams. Nightmares, more like. All the horrid memories of the deaths of his parents had come back tonight, after having been dormant for so long.

The Healer gave another sigh, swinging his legs over the side of the bed and getting up. There was no way he could remain in bed any longer. He needed a walk, needed to clear the horrid memories from his mind.

Changing out of his sleepwear, Fenix donned his jacket and left the house, snowflakes gently settling in his hair as he wandered the empty streets. Stop thinking about it, he scolded himself as he walked, not even noticing his surroundings. Just stop. At least think of all the good times had, not the bad.



Posts

: 29



It was one of those nights again. Seb once again found himself restless and twitchy.
Probably the fact he still felt confused about his whereabouts and that he missed his little sister.
And he missed Mom and Dad terribly, they died tragically and there was nothing he could do about it. Sebastian felt helpless. And guilty.
So he was out there, wandering streets aimlessly. He was limping slightly. Another unsuccessful try to levitate himself all the way up the tree and keep him at the top for a while. Needless to say he still lacked energy to do it so he ended up falling down halfway up.
Just like their parents. This realisation made him feel even worse.

Last edited by Sebastian Lumièrès on Tue Mar 05, 2013 3:02 am; edited 3 times in total



Posts

: 51


Location

: Armonia



The human brain is a bitch, Fenix thought bitterly as he walked, trying his hardest to stop thinking. A sadistic bitch. When you want to stop thinking about something, it just piles more and more memories onto you until you feel so horrendous you can't even think straight.

The young Healer desperately wanted to just ignore the memories that were forcing their way into his mind. He wanted for the wounds to be left alone, not to be re-opened to unleash a new level of hurt on him. But his mind refused to cooperate. As Fenix walked, happy memories began to force their way into his thoughts, but that didn't help. If anything it made Fenix feel worse. Over the years he'd come to terms with their deaths, but that didn't mean he didn't miss them dreadfully, especially at times like now.

He was so deep in thought that he didn't even notice that someone else was walking the lonely streets, brooding. It wasn't until they collided that Fenix was wrenched out of his deep pit of despair. "Oh geez, I'm so sorry! Are you ok?" he asked, getting up off the ground and brushing himself off. He looked at the man - no one he'd seen before. But that wasn't saying much - Armonia was a huge city and he hadn't healed all its citizens.



Posts

: 29



He kept feeling worse by every image of his parents filling up his mind. And it made him want to just bash his head into nearest tree, or wall of some house.
He was a big boy already, as he kept telling himself, but it never changed the fact he'll never see his parents again. They died just like he had just fallen down the length of a tree. Without enough energy to keep the magic going.

And just before he could let his heart clench in his chest he was back on the ground with a thud. "Oh sorry. I wasn't watching where I'm going." he started one of his rambling apologies. "I was just thinking too deeply." only then it hit his brain-he was on the ground again and his ankle protested, just as his ribs, for such a sudden change of altitude again. "I'm okay. Are you?" he looked over at the other man-one he'd never seen before. But who's seen absolutely everyone in this city, it just seemed impossible.



Posts

: 51


Location

: Armonia





Similar topics
---
Permissions in this forum:
You
cannot
reply to topics in this forum