Quick Navigation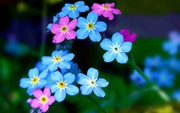 Rules andPlot
Introduction Model
Taken Characters & Their Faces
Canon List



Location Links:
Armonia's Sights
Armonia's Shops
City Outskirts
Sniegsmetsä Forest
Out Of Character
Vote For Us!


Taryn Lullaby
Nickname/s: strawberry girl
Age/DOB: 20
Marital Status: single
Sexuality: straight
Play By: Candice Night

Occupation:
Collects and sells herbs and flowers to Daegonna's Apothecary and Nancy's Tavern
Current Residence:
Tree house in Sniegsmetsä Forest
And blue skies of promise opened before us
There in her eyes are the dreams of the world
Blue skies of promise rained down upon us
Life is so sweet with a strawberry girl
Personality:
Taryn's biggest strength is, as expected of a fairy, flying. She's been flying from a very young age and has a lot of training and practice. She loves the Forest she lives in and she also loves every flower that blossoms. She's learned about herbs, trees and flowers from the day she entered school and is an expert on that sort of thing. She had a strong will and also a strong faith in God. Taryn always tries to see the good in people and tries to make them see it as well, if necessary. Loosing her parents at a very young age, she's good at seeing the world with the eyes of others who shared a similar fate.
Her biggest fear however, is fire. Lighting a candle is the closest you can get her to any sort of fire. Being trained in good and small spells, Taryn isn't very powerful at spells that one could use in a fight. She'd tire rather quickly when using a spell to protect herself from danger. That also comes with her inability to harm others. She'd protect herself if necessary but she would never willingly hurt another being for fun. Taryn's also kinda shy and mostly keeps to herself, though she does have friends and she does like to be outside, enjoying every bit of happiness that nature can give to her. Along with being shy, she's also a little bit naive.
History:
At the very young age of only 2 years, Taryn became an orphan. Her parents were killed in a fire that was caused by a fight between other fairies, Taryn being the only one of the small family who survived. A good friend of her young parents, Xantara, found Taryn inside their tree house and took the young girl in, raising her alongside with her own baby boy who was born a couple of months after the fire. That fire and the death of her parents are the reasons for Taryn's great fear of fire. At least that is what everyone believes, Taryn isn't sure that those are the only reasons.
Growing up, Taryn learned to see Xantara, her husband Xavier and their son Ajax as her new family. She thinks of Ajax as her little brother, even though not in blood, but if she had to, she'd protect him. She's pretty close with him and his parents.
From the day Taryn entered school, she started learning about herbs, trees and flowers and their meaning and power. She became a lover of nature and so, she's an Earth fairy. Her specialty are smaller spells that let flowers blossom. Those little spells taking less energy. But she also knows spells to protect herself from danger, yet those aren't very powerful, because of the lack of casting practice.
Taryn is kind of naïve, too, believing in the good of people and always trying to make them see it, too. But it's exactly what could get her into real trouble some time.
Otherwise Taryn is a happy and friendly young fairy, always smiling and always trying to help. Her main occupation is to collect herbs and magical flowers to sell them to Minerva's Spell-Weaving and Witching Supplies, if they can be used for spell-weaving or to Nancy's Tavern if they can be used to cook.
Also, ever since she was a kid, Taryn loved strawberries. She loved them so much, that she was called strawberry girl.
Right now, Taryn lives in a tree house of her own, not far away from her adopted family.
In her hand was a basket
Sticks and branches were woven as one
She smiled bright like a child
Bright as the afternoon sun

Alias:
Michi
Means of Contact/s:
PM
Other Characters:
none
Last edited by Taryn on Mon Oct 22, 2012 9:33 pm; edited 1 time in total
Earth Admin





Posts

: 83


Location

: Sniegsmetsä Forest



Welcome to the Glowing City, M'dear.

Feel free to post where you want, with what you want, with who you want. We're hoping to get a few more members flitting through as we grow, so thanks for being with us to start it off!
Also, amazing introduction! Very well written, putting mine to shame :3
Welcome and thanks,
Anthony!
Earth Admin





Posts

: 25


Location

: Armonia City



Thank you!

Well, with that introduction model already known to me so well... I have to be honest... I needed a few days for that introduction, since I had to figure out what my character would be like. Wasn't an easy task

Anyway, I'm glad to be here and be one of the first few to join and start this site off. It seems like a lot of fun to me

_________________
Earth Admin





Posts

: 83


Location

: Sniegsmetsä Forest





Similar topics
---
Permissions in this forum:
You
cannot
reply to topics in this forum