Quick Navigation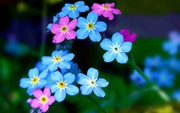 Rules andPlot
Introduction Model
Taken Characters & Their Faces
Canon List



Location Links:
Armonia's Sights
Armonia's Shops
City Outskirts
Sniegsmetsä Forest
Out Of Character
Vote For Us!


It was a cheery kind of day; the sun was bright and warm, accompanied by fluffy clouds. The breeze was cool, stirring the air enough to prevent overheating.
It was in a small park not far off from the campus grounds, in fact, many students enjoyed eating lunch or snacks in their spare time here. There was the dotted occasional tree, as well as a winding pathway between flower beds. Great long fields of grass seemed to dance and glisten in the sunshine.




It was here Sicarius decided to spend his day. Unknown to most, the foreigner enjoyed practising his combat techniques in public not for the attention, but because every now and again someone comes by and watches... with the intent on learning something new. Whether they pick up something by watching, or ask for advice, Sicarius didn't mind. There was a certain peace in passing on one's knowledge... and the assassin knew lots.

His style was not of Armonia, for Sicarius not only grew up in the Darkvoid Provinces, but taught himself most of the moves. They were graceful, linked together like a dance... a dance of death. There was strength, elegance, and power to his moves... with the grace and swiftness of the wind. Yet there was pride and ego in his finishes, displaying not only self confidence, but making a point that he meant business.

Pausing from his practice, Sicarius approached his small pile of belongings in the shade. There was a bag, his sword and cloak, and just exactly what he was looking for... his water pouch. Taking a long drink, he returned to the sunshine and slid into an attack ready stance...
"Agilitas. Potestatem. Propositum.
Viribus. Temperemus. Mortem."


((OOC: "Agilitas. Potestatem. Propositum. Viribus. Temperemus. Mortem." Agility. Power. Purpose. Strength. Harmonize. Death. ~Spoken in his native tongue, from the Darkvoid.))
Admin





Posts

: 40


Location

: Looking for my brain. Seen it?





Similar topics
---
Permissions in this forum:
You
cannot
reply to topics in this forum