Quick Navigation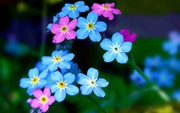 Rules andPlot
Introduction Model
Taken Characters & Their Faces
Canon List



Location Links:
Armonia's Sights
Armonia's Shops
City Outskirts
Sniegsmetsä Forest
Out Of Character
Vote For Us!


Laying atop a sun-warmed boulder, Arielle stared thoughtfully up at the slowly darkening sky. She spotted the first star of the night and a small smile played on her lips. Stars were extremely beautiful things in her opinion. In fact, they had been solely responsible for her fascination with the human world. The first time that Arielle had seen them she'd just sat on Scuttle's little island for hours, just staring up at them in awe and wonder.
Surely a world that is exposed to such beauty couldn't be bad,
 she'd thought. Famous last thoughts. 
As the redhead watched the stars slowly appearing, she began humming an old tune, one that no one had sung to her in so long that she would have been forgiven if she had forgotten it. But the mermaid would never forget it, no matter how many years passed. Moments later the redhead began singing softly, smiling sadly to herself. The song was a lullaby that her mother had sung to her when she was just a child. It was a simple song, but Arielle had always thought it was the most beautiful song she'd ever heard. Not only because Queen Athena had had an absolutely exquisite singing voice, but also because Arielle's love for her mother meant that any song that came from her lips was beautiful. 
A soft sigh left Arielle's lips as she stared down into the water at her own reflection. How the young woman missed her mother. Memories started dancing through Arielle's mind, happy memories of wonderful times that had been and gone. The female didn't even try and stop them. Instead she started singing again, a song that she had never even heard before but one that her mind somehow knew the lyrics to.
"Someone holds me safe and warm, Horses prance through a silver storm. Figures dancing gracefully, Across my memory... Far away, long ago, Glowing dim as an ember. Things my heart used to know, Things it yearns to remember..." She paused, wiping the tear that slid down her cheek as her voice faltered. "And a song someone sings, Once upon a December..."
_________________

Christian had been drifting around waves all day long, pulling his kayak along, and it was a good time. But even merfolk, and especially that human part, the one that had turned into beauty, needed some rest.

So without much ceremonies he'd put himself under the kayak and placed both between the rocks and half in water. That way he could always be ready to flee and also it gave pretty sleepy effect on him with the waves rocking gently.

Sometime later, when stars had started to become visible, a beautiful sound evaded his dreams and slowly grew more present. Only when his ears had woke up and started poking his brain for cooperation, Chris realized it was singing. And beautiful sounding.
The words of the song left Arielle's lips so effortlessly that she didn't even falter or stop during the course of the song. A part of her mind wondered how she knew the melody and words to something she'd never heard before. The song was definitely not one that she was making up as she went along for Arielle failed quite miserably at making up songs and poems. Maybe it's a song from my childhood that hasn't been sung in so long that I thought I'd forgotten it, she mused. The mind was a funny thing like that; it made you think that something was forgotten when in actual fact it remained in a very distant part of the mind, just waiting for the right moment to appear.

Finally the song ended and the last melodic note trailed off into silence. The redhead looked around her; she was still alone. Which was good because she didn't want anyone to have witnessed the song. It was something really private and she would have been rather embarrassed if someone had caught her.

On the other hand though, it would be nice to meet someone. Arielle had been all on her lonesome for far too long, since obviously her family didn't count as actual company. A new friend would have been nice, not that the mermaid made those very easily. But someone to talk to, at least; was it too much to ask?
_________________

Only a while after the heavenly sound stopped Christian's brain started to poke his dreamy body for action. Unknowingly some part of subconscious being had started to produce pink bubbles, which now made him feel terribly embarrassed. He felt glad he was hidden by the kayak and gently rocking water. Otherwise he'd be red as a beet and trying to make the water swallow him.

Christian enjoyed singing himself. Only he always made sure not a single breathing being could hear him, that shy he was about his little secret hobby. He used to try and play instruments too, aside sailing, but he'd never gather enough courage to try anything in public.

With a sudden, incredibly clumsy splash the dark haired merfolk fell out of the tangle his kayak and bubbles had created in the short while it took his body to realize his brain was more awake and wanted some action.
Now he felt more embarrassed. Christian was never this clumsy.
A giant splash sounded nearby, making Arielle jump and dive into the water a second later. The splash had been a big one; it was definitely a human or something similar in size to a human that could have fallen in. From experience she knew that anything smaller would have made quite a different sound. Her cheeks burned the same fiery colour as her hair in shame, for she was absolutely mortified that someone could have heard her singing. It was bad enough when her sisters snuck up on her and eavesdropped on her singing, teasing her about it later, but some stranger hearing her singing was so much worse! At least she knew her sister's weren't going to judge her neither for her voice or her choice of song.

But more importantly she was angry that someone else had found her little cove. Though she knew she couldn't exactly lay claim to a cove (well, she could if she really wanted to; all she would have to do is a have a word with her father who would likely work up some sort of magic to protect the cove from strangers) she was still frustrated over the fact that her special cove, her little haven away from both the mer-world and the human world wasn't as private as she would have hoped. It was bad enough that already two people knew about it; Arielle didn't want it to be infested by even more.

Poking her head up out of the water, her green eyes scanned the perimeter for any sign of whoever had been the clumsy one to fall into the ocean. All she hoped was that whoever it was knew how to swim; she really didn't feel like another Eric situation tonight. Once had been more than enough for her.
_________________

Diving inderneath the water surface, trying in vain to hide the very embarrassing situation, Christian hoped he's stayed unnoticed by the magical voice owner. It was better to not attract attention when he was not at all being his gallant, presentable self. Not to mention humiliation of being less than perfect and mannered person he's been raised up by his family. 

So he stayed underwater, getting the uncomfortably teasing pink bubbles to disappear, and tried to straigthten out his kayak which strayed a bit sideways from his ungraceful daydreaming awakening. And hoped he hadn't dusturbed anyone, least he'd wanted to do.

---
Permissions in this forum:
You
cannot
reply to topics in this forum