Quick Navigation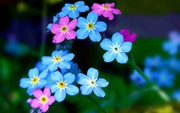 Rules andPlot
Introduction Model
Taken Characters & Their Faces
Canon List



Location Links:
Armonia's Sights
Armonia's Shops
City Outskirts
Sniegsmetsä Forest
Out Of Character
Vote For Us!


Sitting in a secluded part of the town library, Lisette ran a finger over a sentence in the spell-book before her, reading the casting instructions for the second time. Ok, you can do this. Just concentrate and follow the instructions. Make a vine grow from your palm. Simple.

Inhaling a deep breath and closing her eyes, she began to center herself, focusing. Feeling the wonderful familiar tingle of magic running through her hand, she gave a slight smile, before softly speaking the words of the spell.

A sharp pain from her palm made the girl open her eyes, but the pain was gone as quickly as it had come. In its place an emerald vine was beginning to grow. Lisette couldn't help but marvel at the growing green shoot. That marvel quickly turned to horror as she watched how quickly the plant grew. Her hand slammed into the table as she struggled to fight the weight of the growing vine.

Crap, crap, crap! How do I reverse this thing?!
Brink sat opposite of some girl. She was pretty enough, focusing heavily on her book like that..
From what he could tell, they were alone. This corner must be very isolated indeed.

The boy sighed, and rearranged his gloves, carrying on studying from the dusty old tome that lay in front of him. It was grueling.

The thump, and quiet whimpers that followed, made Brink look up. It was quite an impressive sight, the vine beginning to spread across the girl's palm, and up..

He sighed.

Newbie..

With a grimace, he removed the glove on his right hand, and sent a blade of fire slicing across the vine, watching the upper reaches crumble to ashes.
Pulling himself up, he placed two fingers on the girl's palm, at the base of the vine.
He started pounding the vine back using fire, eventually burning it back to her skin, and doing damage to the flesh. But it destroyed the seed that was embedded in her hand, at least.

Soothing her wound with two fingers, he let himself heal her.

Collapsing back onto the ground, he panted heavily. He was sweating.
Fuck, that was hard enough work..
He let his head hit the floor, and closed his eyes for a second.

From what he could tell, they were still alone. This corner must be very isolated indeed.
A gasp of relief escaped the blonde's lips as the vine ceased growing. The gasp turned into a whimper as the fire burned her skin. Stop it, you're tougher than this. Don't be a wimp, especially around a guy.

Besides, be thankful he's helping you...

"Th-thank you," she managed to utter softly, guiltily, before the male collapsed.

Crap.

Quick as anything, Lisette knelt down, taking his head in her lap, to prevent it resting on the hard dusty floor. It was the least she could do, after he'd saved her. Healing her had really taken it out of her.

"I'm so sorry," she murmured, biting her lip. Normally, she wouldn't care. But this stranger had actually helped her. Helped her when he could have just left her to suffer and to figure out how to reverse the spell on her own. That had earned her respect. "Here, you should drink," she added, conjuring up a tiny fountain of water and holding it up close to his mouth. "It'll help."
Brink opened his eyes and grinned at the girl.
"Well, that was exciting, and you don't have to apologise. Thanks for making my morning."

He coughed a little as he sat up, beating a fist against his chest to clear his throat. Catching some of the offered water in his hands, he took a drink and looked up.
"Sorry about that, hope I didn't hurt you too badly..."
"Next time, try and tell yourself how high you want the vine to be, and don't let your imagination run away with you." he thought to himself a second, and with a little smirk, continued,
"I don't know about you - but I don't believe in golden swans and giant's castles in the sky.. Just don't try and prove me wrong!!" his smile scrunched up his eyes a little.

By now, the crystal on his chest had begun to warm and glow - revitalising him after the morning's fun. Covering it with his hand, he stepped back up, and pulled out the girl's seat,
"I'm Brink, by the way. Nice to meet you, despite the circumstances..!" He winked, waiting for her to sit.
"Want to tell me what's got you so interested in growing vines as to try and make the library a jungle..?"
Lisette gave a soft laugh at his words. "Well then, I'm glad I managed to brighten up your morning. I just wish it wasn't because of my incompetence."

Tucking her blonde fringe behind her ear, a sheepish look crossed her face. "I guess I got a bit distracted. My focus left me halfway through," she admitted. Embarrassingly enough, Kiara had come into her mind and instantly all her focus had gone. I really need to stop thinking about her when I'm conjuring...

"I'm Lisette. Nice to meet you too," she said with a smile, sticking out her hand. "And what you just witnessed was me attempting to perfect my homework. But y'know you've got to admit, this place would look even better with vines all over the place," she said with a chuckle. "Or at least a couple of honeysuckle plants growing up the bookcases."

"Anyway, you seem to be exactly the vine-expert I think I may need... Do you reckon you could help me, sometime when you're not busy? I can shout you a beer for it. I don't really have many people to ask for magic help..."
"Lisette? Lovely name! Now, first thing you need to learn is to not get distracted. If you get distracted, the magic will take over. You have to control it."
"Here's where boyfriends and girlfriends, for example, can be a bother. Daydreaming will give you a good kick in the ass if you're casting at the time!"

Brink grinned, and pulled off his gloves.

"You need help with homework? I remember this one from back when I was studying in school - and don't worry. It's certainly not the easiest."

He focused for a second, trying to remember the right words. Uttering them, he watched a tiny sapling emerge from the tip of his finger, under his nail.

With a little shock of pain, he ripped it out.

"Oops. That's a tree, not a vine... I must have had a little seed under my nails..." He frowned as he cleaned them out, blushing a little with the mess-up.

Laying his hand flat on the table,
with just the right amount of slam for effect...,
he whispered the right word, and watched a vine burst out of the centre of his palm. With a smile, he guided it mentally to tie itself in a knot, then to stop growing.

"You see, the key is to think, very clearly and orderly, for it to stop. Imagine it coming to a stop.
"When you're panicking about it sky-rocketing, that's all you can think about!"


Similar topics
---
Permissions in this forum:
You
cannot
reply to topics in this forum