Quick Navigation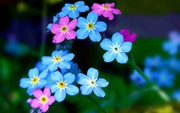 Rules andPlot
Introduction Model
Taken Characters & Their Faces
Canon List



Location Links:
Armonia's Sights
Armonia's Shops
City Outskirts
Sniegsmetsä Forest
Out Of Character
Vote For Us!


There it was - Armonia's city center. Arielle swallowed the lump in her throat as she swam through the city's waterways, something the King had made sure was built after the Peace Treaty between Armonia and the water-folk had been signed. Sometimes it seemed like a rather useless expense since the merfolk hardly strayed into the city, but it sure made things useful on the rare chance they did. Arielle hadn't been to the city properly in quite a long while. Sure, she was here three times a week for classes up at Kiara's Academy, but apart from that she avoided the city like a fairy avoided fire. 

She looked up at the castle as she swum by the government quarter, her eyes cold and hard as memories of everything that happened with Eric came flooding back. The feeling of his lips on hers as he kissed her for the first time, gentle and shy, so unlike his confident self. How he'd begun to murmur 'I lov-' only to be interrupted by their boat upturning. How her heart had broken how on the third day she heard the news that he was getting married. Not to her, but to Vanessa. And the kiss between them - the mermaid had felt like she was dying.

That was the problem with falling in love too young, she had realised much later when the pain had been numbed, you always end up falling for the wrong person. Like an over-confident prince who really couldn't keep his hands to himself. A human prince at that.

He was the prince. I was just a mute girl he'd chanced upon. Really, what chance did I have?

You're not to blame - he really should have been more loyal.

As she swum, she shook her head to clear the musings of her mind. She really didn't want to think about Eric today. All she wanted was a day out, away from her family. They were all much too cheerful for her current mood. After a while, Arielle decided that a short rest was in order before she continued. Not that she even knew where she was going. But she'd figure something out soon. The redhead pulled herself out of the water, sitting to rest on the pathway curb. A moment later however she received a face full of water as someone knocked her back into the waterway. "Oi, watch it! Try actually look where you're going!" Arielle spat angrily to the stranger who was already jogging off. "Jerk."
_________________

Admin





Posts

: 146





Similar topics
---
Permissions in this forum:
You
cannot
reply to topics in this forum