Quick Navigation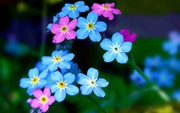 Rules andPlot
Introduction Model
Taken Characters & Their Faces
Canon List



Location Links:
Armonia's Sights
Armonia's Shops
City Outskirts
Sniegsmetsä Forest
Out Of Character
Vote For Us!


Alice loved the Summer. She always had, even back when she was living in England. Armonia Summers were bound to be a million times better though. Everything in Armonia was better. The Spring rains had finally ceased, and the temperature had risen to the point where short dresses were a girl's best friend. It was a pleasant change to wear a short dress for once. It had taken Alice (who was used to lengthy heavy Victorian dresses) all of two-and-a-half days to get used to the concept of showing off her legs. Plus a lot of encouragement from Hatter to boost her confidence.
Today the blonde was dressed in a knee-length baby-blue summer dress with pictures of cakes, cupcakes and tea cups all over it. It had been pink when she'd bought it, but she'd begged the seamstress's friend to change the colour. Pink, especially the shade of pale pink that the dress had originally been, was much too girly for Alice's tastes. She smoothed her dress down as she wandered around the store, straightening cups and saucers. Picking up a biscuit, she bit into it before meandering over to Hatter's throne of a chair and sinking down into it with a smile.
Hatter had gone out to pick up a new shipment of crockery that had come in. Crockery never lasted long at the tea shop. The March Hare made sure of that. She smiled to herself as she walked around the shop, straightening teacups and plates. The March Hare was muttering to himself in the kitchen, baking once again. Alice grinned as the sound of a bowl hitting the floor could be heard. She was so happy to be with her dear friends once again. She had missed them so much when she'd decided to return back to England after her defeat of the Jabberwocky. Being back here was absolutely wonderful, and she wouldn't change it for the world.
~
Pattern of dress
 (except baby blue), 
style of dress
It hadn't even been anything big about but Alastoria suddenly felt incredible craving for tea. She knew that once she'd spotted something like tea shop or something. So now the red head flopped down in front of a nice looking place.

"Maybe there's tea, Argo. " she patted her unicorn on his side. Animal just snorted and nodded its head, ribbons dancing around his head. "Guess we should just try. Hope they let unicorns inside. " girl shrugged and entered the place she believed tea lived.
Pouring herself a cup of tea, Alice stuffed the rest of her biscuit in her mouth, the manners that her mother had so painstakingly taught her completely forgotten. Cheeks puffing out like a hamster's, she took a sip of her tea in an effort to look slightly more presentable should a customer happen to wander in. A hamster look wouldn't be very professional of her, at all.

Which was exactly what happened less than thirty seconds later. The bell above the doorway rang, signalling a customer and a redhead came in. "Welcome to The Mad Hatter's Tea Party!" Alice greeted her with a cheery smile. She faltered when a unicorn followed her in but decided to let the gorgeous creature come in anyway. As long as he didn't try to search for the Jingleglompers in the plants and vines that decorated the place, Alice doubted there'd be much trouble. The Jingleglompers hated having their afternoon naps interrupted. Alice knew that from experience. For creatures so tiny, the buggers had extremely sharp teeth. "Come in and make yourself at home."
Alastoria beamed at the welcome. "Oh thank you! So nice here. I hope my unicorn isn't bothering anyone, but I promise he's nice baby. " redheaded blurted out before filter between her brain and tongue managed to kick in. "I'm Alastoria, by the way, and this is Argo." she jingled in before tugging one of the ribbons to make the suddenly shy animal to step forward and greet the nice hostess. "Be nice darling, no dancing and leave the ribbons calm. And no funny business." Alla gave last warnings before turning back with a smile.
The blonde female beamed at the compliment about the tea shop. Hatter would have been extremely happy to have heard it. The place was his pride and joy; since Alice had come to live here with him, it had become hers as well. She absolutely loved the place and was happy hearing that other people liked it too. "Why thank you. I'm Alice. Pleased to make your acquaintance."

She reached out to stroke Argo's mane, smiling at the baby equine. "Hello, gorgeous," she crooned to the cutie. "We'll see if we've got any milk for you. Maybe even a couple of apples or carrots." She wasn't at all sure what unicorns ate, having never met any before. Well, not properly. She'd seen a couple at the White Queen's castle back when Wonderland had still been standing, but she'd never had anything to do with them. She'd been too busy preparing for the Frabjous Day Battle.

Straigtening up, she gave Alastoria a smile. "Please, sit," she said, gesturing to the various tables and chairs all around the room. There was one large table running the whole length of the room, several dozen chairs all around it; dotted around the rest of the shop were smaller tables that one could sit at if they had a smaller party with them or simply did not want to converse with strangers. The main table was the 'meeting table', as Alice called it. 

"Have some tea and biscuits. The scones should be done soon enough. The Hare's scones are the most delicious things - especially with raspberry jam and fresh cream." She almost licked her lips at the delicious thought, but managed to refrain, simply grinning instead.
"Nice to meet you. " Alla said beaming while Argo looked like ready to melt on spot at the kindness and the touch. Sometimes red head believed he was actually supposed to be cat but by some inane reason ended up being unicorn.

"Thank you." Alastoria said politely and dropped down on chair at one of smaller tables. Everything looked so cozy and cute she almost felt like packing bags and moving in.

"Ohmygosh!" girl gasped, actually licking her lips, hearing about such heavenly things that recalled her of home that she missed. "I think we should move in, Argot. This place is going to spoil us. " she giggled delighted. "Maybe I'll find Sebby easier this way, stay were cookies are and sooner or later he's gonna give in to smell." Alla now was on full ramble, filtre between brain and tongue obviously fried, if it ever existed. She smiled brightly at Alice, hoping the blonde didn't mind such talkative companion.

Argo, on the other hand, seemed bored by his 'mommy' and was curiosly peeking around for something that might be interesting and wouldn't mind him poking his nose into.


Similar topics
---
Permissions in this forum:
You
cannot
reply to topics in this forum