Quick Navigation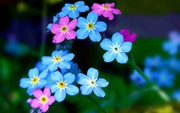 Rules andPlot
Introduction Model
Taken Characters & Their Faces
Canon List



Location Links:
Armonia's Sights
Armonia's Shops
City Outskirts
Sniegsmetsä Forest
Out Of Character
Vote For Us!


Ivy Smith
Nickname: Poison Ivy
Age/DOB: 18. January 5th.
Marital Status: single
Sexuality: straight
Play By: Lucy Liu

Occupation:
student
Wisdom ceases to be wisdom when it becomes too proud to weep, too grave to laugh, and too selfish to seek other than itself.
Khalil Gibran
Personal:
Ivy was born in a normal city with normal people, and from normal parents. Her father, Vince, is a retired Physics professor, while her mother, Seol-Hwa is a kindergarden teacher. None of them had magical powers, so Ivy grew up being unaware of her own. In school, she was among the fastest kids but, most important, she was stronger even than the guys. She assumed that it was simply the fact that she was active and loved playing sports. But, despite the fact that she had always felt different when full moon came out, when she turned sixteen was the worst. After the encounter with a small group of friends, when night started making its presence obvious, she decided to take a walk in the woods by herself. She then turned into a werewolf for the first time. It was painful and she realized that the event had changed her, so the next day, without saying much, she left home and moved to one of the magic towns. She was heartbroken, but then started thinking that her parents were humans who had to live among humans, while she was not. Ivy went on with school, but in a different institution, and she is one of the most serious and intelligent kids in her year.
Thanks to her nature, Ivy is physically strong, and also fast. She can't used any other kind of magic, but when the situation requests it, she knows how to used her strong points in order to win. When in her human form, her biggest fear is water, because she doesn't know how to swim. When she's a wolf though, she has no problem with it.
Despite the fact that she never talks about it, Ivy is still heartbroken for having to leave her family and her friends like that. However, she never shows it and always hides behind a tough mask. Sarcastic, hardcore and selfish, Ivy is one of the well-known creatures in her town, even though she is too young to be an important individual for the community of werewolves. She doesn't like parties, she prefers long walks or even a jog when she wants to relax. She is a loner, she doesn't have many friends and is serious most of the time.
No one wants to be themselves these days
Still there's nothing to hold on to but these days.
[i]
Alias:
Ioana
Means of Contact/s:
PM
Other Characters:
none



Posts

: 12



Welcome, Ivy

You've been added to a group and are free to start RP-ing. If you'd like a house (either in one of the sectors of the city, or in the forest), please let me know.
_________________

Admin





Posts

: 146



welcome there Ivy

_________________
Earth Admin





Posts

: 83


Location

: Sniegsmetsä Forest




---
Permissions in this forum:
You
cannot
reply to topics in this forum