Quick Navigation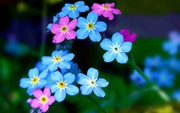 Rules andPlot
Introduction Model
Taken Characters & Their Faces
Canon List



Location Links:
Armonia's Sights
Armonia's Shops
City Outskirts
Sniegsmetsä Forest
Out Of Character
Vote For Us!


Luna rolled her eyes fondly as she left her aunt Melissa's house. Her aunt was always worrying about her. Always. Where she was going, what she was doing, who she was going with. She had a good reason to be worried, but honestly Luna thought it was nothing to worry about. Melissa only worried because of Luna's parents and sister and what had...no, Luna thought firmly to herself as she began to walk. Don't you dare think about that. Don't you dare. You'll get all sensitive and emotional and you know what will happen after that. Luna smiled at the passers-by as she continued on her way. She was quite a friendly person, and she liked to smile, so it was a good combination, really. As she walked, Luna's thoughts wandered to her tree friends. A prickle of sadness rose inside her. Despite them not really being 'people' (though Luna considered them real people and true friends) she loved them, and she was annoyed that her aunt had told her not to go into the forests today.

Apparently, she spent too much of her time there, which Luna did. But she thought the trees were her only friends so far and yes, while she was trying to keep an eye out for someone who could be her friend, it wasn't working and she only had them to confide in. Some people thought Luna strange for talking to the trees but she didn't care. They were peaceful beings just like she was, and that made them have something in common. Luna's thoughts moved to a song she had recently started writing. The tune appeared in her head and she suddenly grinned and began singing it, quietly. "The trees, they whisper in the winds. The flowers, along with it they blow.Seeing the light, of shining day, is gift enough for the soul."  Luna had been told she had a good voice but she herself didn't think so. She just loved to sing so to her it really didn't matter. Luna didn't realize she wasn't paying attention to where she was going.
A smile playing on his lips, Fenix walked home, cheerfully humming a tune under his breath. Jars clinked merrily against each other in his bag and the faint scent of various medicinal herbs tickled his senses. He'd just finished his weekly shop for ingredients at Daegonna's and was now heading back. He was looking forward to taking Qanik, his Master's dog, for a walk when he got home. He loved the fluffy beasts to utter bits - she had become his best friend over the time that Fenix had been doing his apprenticeship.

He'd picked her up some treats at the animal emporium too. A couple cow leg-bones and some dried pigs-ears. That should keep the malamute happy for a while. And it would earn him more undying adoration for himself, not that the gorgeous canine didn't already give it to him. Fenix smiled as he thought about her, navigating through the busy streets. He'd definitely make sure to take her for a good long walk tonight. Maybe down to the beach. Fenix loved walking along the beach at night, with the moon shining bright in the sky and Qanik panting softly beside him as she walked, his furry protector.

I need to stop off at the book-store, Fenix remembered as he continued on his journey home. I do hope Lumiere's managed to get that book in for me... So lost was he in thought that he didn't notice the blonde he was about to crash into until too late. Stumbling backwards, he held his purchases to his chest in an attempt to prevent them falling and smashing on the cobblestones. "Oh, I'm so sorry! Fairies must have taken me away for a few minutes. I didn't hurt you, did I?" Fenix queried, concern creeping into his tone.



Posts

: 29



Luna smiled lightly as she remembered the lyrics to her song that she'd written so far. She wasn't singing it out loud any more, but she was humming the slow tune quietly. Suddenly she crashed into someone. A small squeak escaped from her mouth as she managed to steady herself. She quickly reached out and gently helped steady the person in front of her, or at least she attempted to. She looked up and opened her mouth to apologize but the guy had beaten her to it. Luna smiled lightly and let go of the person when she hoped he wasn't in danger of falling.

"Hello." she said. That was always the best way to start a conversation, she had once been told. She then shook her head. "Don't be sorry. It was my fault. I was daydreaming, as usual. You didn't hurt me. Are you okay?" she asked, tilting her head. She examined him slightly, though not in a way that she would seem creepy (at least she hoped she didn't seem that way.) He looked ever so slightly familiar. Luna had probably seen him around here before, but she just didn't know his name.

"I'm Luna, by the way. Luna Hawthorne. Do I know you from somewhere? You look somewhat familiar to me." Luna said. When she was curious she tended to ask questions, or investigate. She was curious at this man's familiarity to her, so she was asking questions. It seemed a weird way to explain it but Luna didn't much care about what was thought of her. Not most of the time, anyway.
Fenix gave her a grin. "Well, let's just say that it was both our faults and be even, eh?" he said with a chuckle, running a hand through his hair. He'd been as much at fault as her, so it hardly seemed fair to let her take all the blame. He looked over her, studying her for a moment. He definitely hadn't met her before. Not at work and not in his free time. But Armonia was a large city; he could hardly be expected to know everyone.

"Fenix Aescar, at your service." At her comment about him looking familiar, he gave a sheepish grin and shrug. "I'm a Healer. My profession makes me well-remembered. Though I must confess I have never seen you before so you can't have been one of my patients..." The man had a photographic memory when it came to his patients. He could recall pretty much any one that he had ever helped, even if it did take him a little time to remember it. It was an extremely helpful skill, especially when he was dealing with patients that were coming back for a second or third time. It meant that he didn't have to waste time searching through all the medical record notebooks that he and his master kept.



Posts

: 29



Luna giggled and nodded. "Yeah, that can work. she agreed, with a smile. She still couldn't quite place him, no matter how hard she tried to. Perhaps her aunt had spoken with him before, or something? Yeah, it had to be something like that because she couldn't remember actually ever talking to him. Hmm. So why did he look familiar? Well, it was possible that she'd seen him around, but Armonia was a big place, so that would be pretty rare.

When she heard his name, Luna smiled. "Hmm. It's a good name, that. Fenix Aescar. Kind of....exotic. Unique, I mean." she said thoughtfully. Then she grinned. "Oh, wow, a Healer? That's so cool." she said, honestly. Then he said he'd never seen her before so she looked thoughtful. "Hmm...maybe you've visited my aunt before or something. Or it might just be sheer coincidence. But either way, pleased to meet you, Fenix." she said, with a bright smile. Luna was often told she was a very happy person, often too happy by some people, but that was fine by her. Happiness was definitely important, right?  Well, in her eyes it didn't really matter what others thought of her...at least, not everyone. People like her aunt were people Luna thought she had to impress and be...normal around. She didn't like it, but still.

---
Permissions in this forum:
You
cannot
reply to topics in this forum