Quick Navigation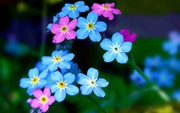 Rules andPlot
Introduction Model
Taken Characters & Their Faces
Canon List



Location Links:
Armonia's Sights
Armonia's Shops
City Outskirts
Sniegsmetsä Forest
Out Of Character
Vote For Us!


Luna was wondering around in the spring weather. She was
dressed in a pink sundress that fell to her knees. Her hair was in loose curls cascading
down her head stopping below her shoulders. Her hair was light blue as she
wondering around. She wasn't exactly sure where she was but she was sure people
were there for her to meet and that was always a good thing!
Alice loved the Spring. After the long Winter that they'd had it was nice to see the snow finally melting and delicate leaves beginning to grow on the once-bare trees. Hatter had gone out to pick up a new shipment of crockery that had come in. Crockery never lasted long at the tea shop. The March Hare made sure of that. She smiled to herself as she walked around the shop, straightening teacups and plates. The March Hare was muttering to himself in the kitchen, baking once again.

Taking up a biscuit off a nearby plate, she bit into it, grinning. She loved it here in Armonia. Loved being back with her dear friends once again. Alice wouldn't change it for the world. She looked out of the window of the tea shop, wondering if she'd have any visitors today. Oh how she'd love to meet someone new!



Posts

: 32




---
Permissions in this forum:
You
cannot
reply to topics in this forum