Quick Navigation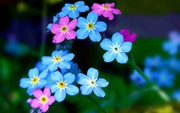 Rules andPlot
Introduction Model
Taken Characters & Their Faces
Canon List



Location Links:
Armonia's Sights
Armonia's Shops
City Outskirts
Sniegsmetsä Forest
Out Of Character
Vote For Us!


A gentle spring breeze ruffled  Fenix's hair as he waited outside Kiara's Academy of Magic, a bouquet of flowers in his hand. He smiled at the arragement - a mixture of various Spring flowers, all in shades of delicate pink and white. He hoped she'd like them. Many painstaking hours had gone into magically growing the blooms for her, especially for this occasion.

The male brushed an invisible speck off his grey jacket and looked up at the Academy, smiling at the pretty sight. The front of the school was decorated with tiny lanterns, their lights casting rainbow shadows all around. Fireflys danced around the school grounds, happy to be lending their magical glow for the evening. From within the melodic sounds of the orchestra could be heard, lazily floating out on the gentle breeze, inviting attendees inside.

A goofy grin threathened to spill from Fenix's lips as he once again resumed to look out for his lovely companion for the night. No doubt she'd be wearing something stunning for the night; Fenix only hoped that his bouquet wouldn't stand out too much against her outfit. Though he doubted she'd complain much, even if it did. She just wasn't one of those types of girls. It had been an interesting day, the day he'd met Taryn. They'd bonded over mushrooms, of all things. Fenix gave a soft chuckle at the thought. The Earth fairy and the Healer. He couldn't help but blush at the thought, lovely as it was.



Posts

: 29



Oh, how excited the young fairy was! It had been quite a while since he had been out to the ball. Especially with someone she actually really liked. Last time she went it was a total disaster. She rarely knew the guy who asked her out and in the end she wouldn't even be able to go to the bathroom on her own. He'd escort her everywhere and not in a way she liked. It got a little annoying, which basically ruined the fun for Taryn. He barely even let her dance with her brother, which she did every year, when they both went to the ball. She was proud to get along with him so well, even though they weren't real siblings, because she was only his adopted older sister. But still, he was special and dear to her in a sisterly kind of way.
But being asked out to the ball by Fenix actually made her feel like a 16 year old, asked out on her first date. They met on a lovely day in the forest, both collecting mushrooms. They met when Taryn was least expecting it and it had been something she always wanted to experience. Getting swept off her feet when she least expected it. And she did. She met someone so lovely and caring, yet careful not to say the wrong thing and they obviously had more in common than just the loss of their family.
Taryn had been flying to the Academy from the edge of the forest, but a little bit before she reached the Academy, she set down on the path that let straight to it and straightened out her
dress
and hair. She had her
hair
pinned up in the front in curls and in the back of her head, her long, curly blond hair would fall onto her back and some strands even onto her shoulders. A tiny tiara of light pink roses was clipped to her hair, matching her medieval looking, light pink dress. She smiled as she walked the rest of the way to the academy, looking for Fenix, a slight pink glow on her cheeks.
~ ~ ~ ~ ~
OOC: love the first post

made really smile. So sweet

_________________
Earth Admin





Posts

: 83


Location

: Sniegsmetsä Forest



Pulling out a pocket-watch from inside his jacket, Fenix looked at the time. It wasn't a sign of impatience, more a sign of his nervousness. He was such a workaholic that he never went out with anyone. Least of all a female. An attractive female at that. The Healer was much too absorbed in his work, to the point where there was simply no time for socialising in-between rounds, studying and sleep. It had been years since he'd been on a date. While he waited he tried to remember exactly when his last date had been, but after five minutes simply gave up, deciding that it was much too difficult a task. The words 'in years' seemed an accurate way of describing his lack of dates. He ran a through his hair, before checking over the blossoms in the bouquet again. He couldn't help it - Fenix wanted it to all be perfect. He was a totally hopeless romantic. 

Finally, he spotted Taryn, weaving her way through various couples as she looked about, obviously searching for him. The male couldn't help but smile upon seeing the charming fairy. She looks so beautiful! Fenix gave a wave, his grin widening slightly as he walked over to her, somehow managing to refrain from jogging over. Calm down, boy, his mind chided him. Tone your enthusiasm done, at least by a notch. He really couldn't help his excitement, but he tried to make himself appear less like the joyous puppy that he felt like right now. "Milady," he greeted her with a bow, gently taking her hand and placing a soft kiss on it. Maybe it was cheesy and old-fashioned, but Fenix didn't particularly care. "These are for you," he told her, bringing the bouquet from behind his back and giving it to her, smiling. "And I have to say, before you spot anyone else you know and they decide to pay you a compliment, that you look absolutely stunning tonight."



Posts

: 29



She was finally here! And even before she reached the entrance, Taryn found her wonderful date walking up to her after he gave a small wave to her. In that moment the young fairy felt the butterflies in her stomach partying. She really was a little nervous now, although most of her feelings were just exitement and happiness. Of course, she wanted tonight to be perfect. She was young and a total romantic at that. A kiss in the moonlight would make this night really perfect. But she blushed at that thought, although she really hoped that maybe that might come true. Although... to her it was perfect already, because Fenix had asked her to the dance and he was greeting her in such a lovely way that it made her heart melt the instant he handed her the bouquet of flowers, miraculously matching her dress.

Taryn's cheeks blushed to a soft shade of pink, but she smiled, a happy tear in her eyes. It really had been a very long time since she was actually treated like that and it simply amazed her. To his bow she returned the greeting with a small, modest curtsy. "Good evening to you, too." Taryn said in a warm, happy tone. 

She took the beautiful flowers and held up a little to slowly breathe in their sweet scent, closing her eyes as she did. She was the kind of person who enjoyed the little things and she also loved the scent of flowers. Smiling happily, yet a little shyly, too, she looked back at her handsome date. "These are really beautiful."


But then she blushed again at his compliment. Taryn really had put a lot of throught into her outfit, decent make-up and her hair and so she was even more happy to hear that Fenix liked the way she looked tonight. Stunning he said, Taryn, stunning! Can't remember when someone told me that before. And that it came from Fenix made it even more special to her. Easy, girl, you're not 16 anymore... Although you feel like it.
"Thank you very much. I am happy to hear that." she thanked him modestly, just like she usually would. "And may I add... you look very handsome yourself."
_________________
Earth Admin





Posts

: 83


Location

: Sniegsmetsä Forest





Similar topics
---
Permissions in this forum:
You
cannot
reply to topics in this forum