Quick Navigation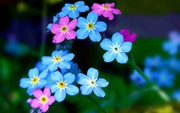 Rules andPlot
Introduction Model
Taken Characters & Their Faces
Canon List



Location Links:
Armonia's Sights
Armonia's Shops
City Outskirts
Sniegsmetsä Forest
Out Of Character
Vote For Us!


The beach was stunningly beautiful; peaceful waves and smooth sands. The sky was bright and blue, and the position of the sun suggested it was around mid morning. The breeze was lightly gusting at some points, bringing the strong smell of the sea.

So peaceful, delightful, calm and enjoyable. Those were definitely the reasons why the Tyrant King decided to pay a visit. His horse was sniffing through the grass just off the beach line, the black shape seeming to stand out so bluntly against its surroundings. It occasionally lifted his head to watch his master, then lost interest and continued munching away.

The waves rushed up the sand, coated King Tyrannus' legs up to mid-calf, and then retreated. Pausing in his walk to look over his shoulder, Tyrannus watched his own footprints being erased by the pounding force of the sea.
So strong and fierce; he wanted it. Continuing on his path, he trudged through the sand and water, loving the greedy pull of the water as it sucked at his heels before retreating.

Walking around the tip of the cove he came upon a small reef; the large rocks jutting out and piercing the very heart of a ship. The vessel, or at least what was left of it, was angled up at the sky with the back half clearly missing. 'It was most likely carried away from here.' He thought to himself, amused.

The old lines and sails gently flowed with the breeze, giving an eerie yet peaceful look to it. Here the waves weren't nearly as strong; more playful than what he had just experienced.

"Interesting… so moody and unpredictable…" He spoke softly. "I like it."
"I like that too. Feels promising, for some adventure. " Chris said suddenly materializing next to the mysterious stranger and his travel companion.
Christian had been pretty long traveling the seas and finding something that was mysterious and challenging enough always intrigued him.
The King raised an eyebrow upon hearing someone's voice. Tyrannus could have sworn that this creature...this humanoid... hadn't been present a little while ago. Incredible, and definitely a useful skill to have... not many can sneak up on godly beings such as himself.
This individual was lucky, should the king have been in a fowl mood he would have been tempted to end this fish's life in the tank. However, that definitely wasn't the case and believe it or not the dark lord was feeling... sociable.

"I most definitely agree, stranger. Clearly the sea can be an adventure." He motioned to the old ship with a wave of his hand. Whoever was on board must have been quite surprised. He chucked at the thought of their terror.

Unsure if seaside beings knew of his deeds and shadowy ways, the king decided to introduce himself.
"King Tyrannus Illordul." He stated proudly, with a polite nod toward the other.
"I believe so, sir. I've traveled many seas looking for adventure. " Christian said with a slight shrug.
He suspected the man being one who enjoys darker places.
"Christian Torres. Nice to meet sir." the seaman smiled at the other. He had a vague feeling he might be in an occasional mood and that Chris had to be happy to still be able to smile. Although he smiled mostly all the time, even during pirate attack.
But he was a human too, therefore not familiar with whole magic land. Albeit open to any encounter. He could do things regular human couldn't so it would be normal to befriend all the others, right? His brain kept boiling like a kettle too small for the amount of water inside while on outside the handsome man kept smiling and radiate optimism and general happiness.
Last edited by Christian Torres on Tue Oct 08, 2013 1:55 am; edited 1 time in total
It was clearly evident that this individual did not know who he was. There was no visible signs of terror, or fear, or even the sudden urge to flee. 
It was kind of enjoyable. Maybe there was hope for decent conversation outside of his palace walls.

"It is healthy to seek adventure, in fact I am a strong believer in the fact that everyone should have their chance at it." His eyeless, black, sockets seemed to brighten gleefully for a brief moment.
What he said was true, just because he was the King of the Darkvoid Provinces, didn't necessarily make him a liar... it just meant he was a bad man.
The thought brought a chuckle.

"It is a pleasure, Mr. Tores. Now tell me, are you from this area?"
Sure, the stranger was fairly creepy, but Chris long ago had learned not to jump to conclusions before he's gotten a chance to know the person or situation better.

"I must agree with you. My life has been full of adventures so I don't mind some more. Adventures makes the life fuller." he still beamed.

Well, if he's about to be eaten or anything then at least he'd had his swim before. If not, well, conversation was welcomed. Talking was a nice thing for a change. He had been underwater long enough to miss using his mouth for different means.

"I'm not, actually. Though its still a mystery of how I got here. Probably through storm. I was sailing and then storm happened. Next thing I knew was in a different sea." Christian said with a shy kinda smile.


Similar topics
---
Permissions in this forum:
You
cannot
reply to topics in this forum