Quick Navigation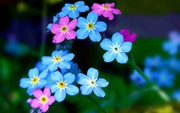 Rules andPlot
Introduction Model
Taken Characters & Their Faces
Canon List



Location Links:
Armonia's Sights
Armonia's Shops
City Outskirts
Sniegsmetsä Forest
Out Of Character
Vote For Us!


This is a messy subject. Please bear in mind that this is a fictional world, and that anything said or done here is NOT A REPRESENTATION OF PEOPLE OR BELIEFS IN THE REAL WORLD. If you have an issues with the post, please email Calypso at grissom.is.wholocked@gmail.com and we can discuss the issue in full.
Yours, ADMIN
The world of Ziemia is one in which religion is widely practiced.
There are three groups of notice.
The largest among the 'Races of the Five' is a belief in Five gods, known as Water, Fire, Earth, Wind, and Energy. Each has various attributes and quirks.
Water, Earth, and Energy are Female. Wind and Fire are Male.
They are worshipped in temples in the City of Armonia, in a pentagram around the city's central, The Floating Market. There is a temple dedicated to each of the Five gods and goddesses.
At night, every believer of The Five prays to their divinity, as well as to the safety of the ADMIN power-providers.
The Centaurs, and a minority in a few other races, believe in a single God. He was, according to them, responsible alone for the creation of the world and of Energy, and is the only deity in the heavens above.
The 'Dark Races' - Orcs, Goblins, and others beyond the mountains in the Darkvoid Provinces - believe that magic is sin. They worship their four gods; War, Famine, Pestilence, and Death, with a simplistic, ritual and sacrifice based tribalesque religion.
Admin





Posts

: 6




---
Permissions in this forum:
You
cannot
reply to topics in this forum