Quick Navigation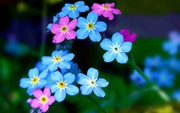 Rules andPlot
Introduction Model
Taken Characters & Their Faces
Canon List



Location Links:
Armonia's Sights
Armonia's Shops
City Outskirts
Sniegsmetsä Forest
Out Of Character
Vote For Us!


The races of Ziemia have different relationships with magic, based on their beliefs, connections with the world and her enegries, and the way that they are held together with the world.

Humans are a young race in the world of Ziemia. As a result, their energies are still relatively locked, with most Humans not being able to accomplish more than a small flame or a little bit of light. This is not to say that they do not benefit the magical world, however. The general populace of the Glowing City pray each night to The Five, and to the men and women that give their lives up for the protection of the city by donating their energies to keeping the ADMIN automatons powered. As a result, the energy of each person is sent to the 5 men and women who stand day and night running the metallic protectors, keeping them alive to do the task at hand.

Elves and Dwarves, however, are Eldar races. Their energies are far more intertwined with the world, and as a result find it easier to cast, and transfer their energy into physical form. As a result, most of the population have a deep understanding of Energy. While Elves look down on the Human's for their "un-enlightenment", Dwarves are much happier to teach the younger race, and provide good example to the relative children that have arrived in the world.

Because of this mentorship, Humans and Dwarves share a very close relationship. Humans have also taken up a defensive stance rather than the Elves' aggressive magics - putting their energies into transformation and conjuration, with only mild education into the aggressive arts of mass elemental spell-casting.

Naturally, this is a generalisation - many Humans and Dwarves have a higher knowledge of the aggressive elements, and some Elves detest violence and prefer the healing and empowering schools of magic.


Some races hold a sincere belief that magic is sin. Orcs, Goblins, Centaurs, and a few other races out in the Outer Plains and Darkvoid Provinces detest the magic that the races of The Five possess, and focus more on their own Gods of War, Famine, Pestilence, and Death.
Admin





Posts

: 6





Similar topics
---
Permissions in this forum:
You
cannot
reply to topics in this forum